Tappin' Times – January 2020
Thank you!  As we enter into 2020, all of us at Woodbury Dance Center would like to thank you for sharing your children with us!  We are truly grateful for the opportunity to work with so many wonderful kids each week.
Our teachers and staff would like to say a huge thank you for all the cards, goodies, and gifts given over the holidays.  They are much appreciated!
We wish you a happy 2020!
---
DATES TO REMEMBER
SPRING BREAK – Monday, March 9th through Saturday, March 14th. (no classes)
PICTURE WEEK – Friday, April 3rd – Thursday, April 9th (no classes during picture week)
RECITALS – Monday, June 1st through Saturday, June 6th
Classes WILL be held Monday, January 20th (MLK day) and Monday, February 17th (President's day).
Tights Order Reminder
If you have not yet order tights for your dancer, please do so by January 6th. 6-8, 9-11 and 12+ Hip Hop classes will not need tights with their costume.  Order forms were passed out in class and are also available at the front desk. If you would like to order tights online, you may do so HERE.
Monthly Themes for Tots, Preschool, and Kindergarten Classes:
Our theme this month for tots, preschool, and kindergarten classes is: "Happy New Year- Celebrate YOU!". We will have special songs, games, activities, along with dance specific skill goals and life/social skill goals that will be worked on each month.
Wingman For Dance:
We are excited to continue using the Wingman For Dance Program with our 1st/2nd grade and older classes! Wingman inspires empathy, compassion, kindness, and inclusion. Each month will have a new focus with various activities. January's focus will be on discovering our own strengths and appreciating the strengths of others.
Recitals 2020
We are excited to be having our annual Recitals here in Woodbury again at the beautiful East Ridge High School!  Please mark you calendars with the following dates:
Preschool through Teen Classes:  Monday, June 1st through Saturday, June 6th at East Ridge High School in Woodbury. Click HERE for a list of which classes are grouped together for each show.  Specific dates and times for each recital group will be posted near the beginning of February.
Dress rehearsals: Tuesday, May 26th ; Wednesday, May 27th ; Thursday, May 28th ; and Friday, May 29th also at East Ridge High School.
Tots classes:  Our "Totally Tots Showcase" performances will be held the morning of Saturday, May 16th.  All of our tots classes will be performing on that date.
Attendance Reminders
Please help us by making sure your dancer is regularly attending their dance classes.  All classes are starting their recital routines.  Good attendance will:
Help your dancer be more confident with their dances.
Keep your dancer up-to-date on new steps and avoid frustration of trying to get caught up on what they missed during their absence.
Help the teachers keep classes moving ahead with choreography from week to week.
Help the teachers with formation work in class.
Make-up classes are available for most classes.  Please call or check at the Front desk for class times.
Calling all Dancing Dads and Ladies!
Are you jealous of the fun your dancer has up on stage each spring? Have a New Year's Resolution to get moving? Then it's time to join our Dancing Dads & Ladies classes – open to all WDC adults! Best Part? Tuition is FREE!!  Both groups will be learning a routine to perform in our annual Recitals.  There may be a fee for costumes.
Dancing Dads & Dancing Ladies start on Wednesday, February 5th!! Rehearsals will be held Wednesday evenings – times TBD (Note: We will periodically be combining Mom's and Dad's classes on Wednesday nights and may adjust rehearsal times as needed). We will be sending more information about Dancing Dads/Ladies soon once the schedule has been finalized with a sign up to participate.

We are also still accepting registrations for our other adult classes. Please see class information below. All classes are 45 minutes. Classes focus on technique and style through center exercises, traveling progressions and combinations. Adults in the tap and jazz classes will have the option to perform in our recital at the end of the season.
Tuition:
one class per week – $40/month
two classes per week – $68/month
three classes per week $89/month
four classes per week $110/month
Tuesday 8:00pm Beginner Tap w/ Bruce Shoes Needed – Black Tap
Tuesday 8:45pm Intermediate Tap w/ Bruce Shoes Needed – Black Tap
Wednesday 7:45pm Ballet w/ Alyssa Shoes Needed – Ballet Shoes
Wednesday 8:30pm Jazz w/ Alyssa Shoes Needed – Jazz Shoes

New Classes Starting in JANUARY
Do you have a friend or neighbor that would like to try dance at WDC?  Tell them about our new session classes beginning January 15th!  There are many new classes for Session Three, for ages 18 months and up – check out the schedule HERE.  You can register online HERE.  Classes fill fast- reserve your spot ASAP!
Frozen Dance Camps 2020
We are excited to add a couple of Frozen themed dance camps in January!! Please check out dance camp information below and use the link to register.
Frozen Mini Camp
Saturday, January 18th 9:00-10:15 a.m.
Ages 5-7
Instructor: Desiree Siggens
Tuition: $20
Frozen Mini Camp
Saturday, January 18th 10:45 a.m. – 12:00 p.m.
Ages 3-5
Instructor: Desiree Siggens
Tuition: $20
Frozen Camp
Monday, January 20th 9:30 a.m.- 1:00 p.m.
Ages 4-7
Instructor: Desiree Siggens
Tuition: $35
Dancer will need to bring a snack and a bag lunch with a beverage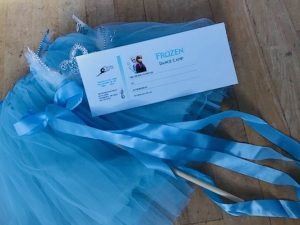 Camp Description: Let's celebrate Anna and Elsa's newest adventure! Students will enjoy dancing, games, craft, snack, and fun. Go "Into the Unknown" and dance the day away with us! Ballet shoes or tennis shoes needed.
We also have Frozen themed gift sets including a tutu, wand and tiara to accompany your camp registration. Purchase yours in the boutique today!

Recreational Private Lessons (Dancers 1st Grade & Up)
The studio will continue to offer private lessons for our recreational dancers ages 1st grade and up; however, privates will now be scheduled individually through our office assistant. If you would like to schedule a private lesson for your dancer, please email Emily at emilyness.wdc@gmail.com to set up your private today. Below is some additional information about private lessons.
Private lessons are a great opportunity for your dancers to get some one on one time with teachers to work on their technique and skills (and as the season goes on, work on their recital routine).
When scheduling a lesson, please indicate your dancer's name, what your dancer would like to work on (tap, jazz, class routine, etc) and days of the week that you are available for lessons. We will then provide some options for private lessons based on teacher and room availability. Private lessons will be scheduled for 30-minute time slots. The tuition for private lessons will be $35 per 30-minute private lesson paid directly to Woodbury Dance Center at the front desk prior to your scheduled private lesson.
Social Dance Classes
Ballroom classes will be offered at WDC Sunday evenings for those ages 15+. Please see schedule, prices and registration information below (please note that these classes are not put on by WDC, so you will not be able to register through the studio)
Saturdays @ WDC MAIN STUDIO – 4 Week Session
Session 1 – February 8th, 15th, 22nd & 29th
8:00-8:50 p.m. Beginner 1 Waltz, Rumba, Foxtrot & Swing
Tuition: $95 single/$160 couple for 4-week session
To register, please contact Gabi Kozdroj: by phone at 651-714-0800 or by email at woodburymn@anytimefitness.com
Birthday Parties at WDC
Did you know that WDC offers Birthday Parties?! Check out our awesome party themes and details HERE. Would you like to schedule a birthday party for your dancer? Contact Desiree at wdcdesiree@gmail.com.
Theme Weeks
Winter Carnival Week: January 27th – February 1st Tots, Preschool & Kindergarten classes are invited to wear winter carnival inspired dancewear (blue/white, snowflakes, hats/scraves, etc.)
I Love to Dance Week: Monday, February 10th – Saturday, February 15th. Dancers of ALL ages wear red, pink, or hearts and show your Love to Dance spirit! We will have red and pink leotards, skirts and accessories in the boutique for purchase during the month of January!
WDC Boutique Sale
*15% off Dancewear-leotards, skirts, shorts, pants, tights (select styles), dance tops and leg warmers!
*15% off select shoes including ballet, tap and jazz shoes for recreational class dancers.
*15% off dance bags- in stock styles only
*15% off hair accessories including headbands, hairbows, flower clips and more.
*15% off select WDC apparel