November Tappin' Times – 2018
Important Dates to put on your calendar…
Thanksgiving: No classes Wednesday, November 21st thru Saturday, November 24th
Holiday break: No classes Saturday, December 22nd thru Tuesday, January 1st
Spring break: No classes Monday, March 11th thru Saturday, March 16th
Picture Week: Thursday, March 28th – Wednesday, April 3rd (No Classes will be held during Picture Days)
Final class day: Thursday, May 23rd
Tentative recital dates: June 3rd thru 9th at East Ridge High School in Woodbury
Tentative dress rehearsal dates: Tuesday, May 28th; Wednesday, May 29th; Thursday, May 30th; and Friday, May 31st
________________________________________
Holiday Parties December 10th-20th…Holiday parties/parent viewing will be held during the classes of dancers in the following age levels:  Tots, Preschool and Kindergarten (Alexis's Wednesday 5-7 Hip Hop/Tap Class WILL NOT have a holiday party).  Parents and relatives are invited into the classroom for a half an hour to view classes and see students perform holiday routines.  Please note that in order for all classes to have a viewing time, parents will be invited into class during half of the class only (except for tots, their party will be during their entire half hour class time).  STUDENTS WILL STILL NEED TO COME FOR THEIR FULL CLASS TIME!  Holiday parties will be held between December 10th through December 20th.  Exact dates and times will be passed out during your child's class. You can also check out the holiday party schedule using the link below!
NEW SESSION CLASSES STARTING!
Session Two of our 8-week classes starts soon!  Join us for Mommy & Me, Ages 2-3 year old, & Ages 3-5 year old classes.
Classes run from Wednesday, November 7th – Wednesday, January 9th.
(No Classes for Thanksgiving Break: Wednesday, November 21st)
(No Classes for Winter Break: Wednesdays, December 26th)
ADULT WINTER SESSION 2018
We have added a Winter session for our adult classes. Please see the class information below and use the link to sign up for class.
Winter Session: December 5th – January 23rd (No Class December 26th)
Wednesdays @ MAIN STUDIO
8:15-9:00 p.m. Hip Hop with Brinna
9:00-9:45 p.m. Jazz with Alyssa
Tuition:
$42 for one class selection – jazz or hip hop
$70 for both class selections – jazz & hip hop
15% discount for current WDC families/students!
Shoe Requirements
Hip Hop – Clean tennis shoes
Jazz – Any style/color jazz shoes
Monthly Themes for Tots, Preschool, and Kindergarten Classes
Our theme this month for tots, preschool, and kindergarten classes is: "I Am Thankful!". We will have special songs, games, activities, along with dance specific skill goals and life/social skill goals that will be worked on each month.
Stuffed Animal Week November 12th-17th
For dancers in Tots, Preschool, and Kindergarten classes
Dancers are invited to bring their favorite stuffed animal friend to dance class!
We will be doing lots of fun activities in class with our furry friends!
Wingman For Dance 
We are excited to continue using the Wingman For Dance Program with our 1st/2nd grade and older classes! Wingman inspires empathy, compassion, kindness, and inclusion. Each month will have a new focus with various activities. November's focus will be on "The 'Us' List and Teamwork".
FOOD DRIVE — We are having a food drive in November for the Christian Cupboard food shelf in Woodbury.  Dancers are encouraged to bring in non-perishable food items and drop them off near the front desk between November 5th-17th.  Below is a list of items that the food shelf is requesting at this time of year.
Items the food shelf is requesting–
·          Meats, fish, and protein: canned tuna, ham or chicken, beef stew, chili, peanut butter, canned/dried beans
·          Fruits and vegetables: 100% fruit juice, canned fruits and vegetables, instant potatoes, fruit preserves
·          Complete meals: pasta & sauce, boxed meals, hearty soups
CHRISTIAN CUPBOARD TOY DRIVE….WDC is excited to be a toy drop-off for the Christian Cupboard toy drive program this holiday season.  Drop off a new unwrapped toy starting November 19th – December 8th.  Toys should not exceed $30 in value geared for ages 0 – 13.  You may also consider donating gift cards from local retailers in the amounts of $15 and $30 for teens.  They will also accept donations of grocery gift cards for families with a $15 value.
As an alternative to giving your dance teacher a gift, we would like you to consider donating a toy or gift card in your teachers name instead.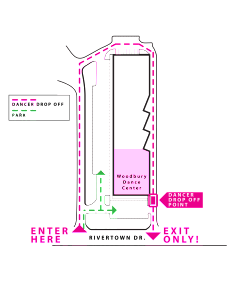 PARKING LOT…Please go slowly and carefully when driving through our buildings parking lot. Parents, please keep little ones close so they do not run out into traffic.
***When parking on the road on the south side of our building, please do not park on the south side of the road (the opposite side).  We can only park on the north side so that trucks can get through.  When parking on the north side of our building, please park along the building only and not on the north side of the drive-way.  Again delivery trucks need to be able to get through to other businesses in our building.
Please look for the No Parking signs and only park in handicap spots if you have a handicap sticker visible in your vehicle. Also, please view the diagram provided for more information about our new drop off spot and the traffic flow of our parking lot. Thanks for your help with this.
PLEASE NOTE:
* You will not be allowed to drop off or pick up dancers in front of the doors.
* When picking up you will not be able to wait at that spot if your dancer is not there and ready to be picked up.  Please plan to circle the building again or find a parking spot and wait until they are ready to come out to the car.
Please help keep our dancers safe by following this parking plan.  Thank you!
Look for Previous Newsletters on our Website
All previous newsletters are posted on our website on the NEWSLETTER PAGE. Have a question? Can't remember an important date? Check back on previous newsletters. This is a great source of information throughout the dance season.
WINTER IS HERE!!  If we plan to cancel classes due to extreme weather, we will send emails, post information on our web site, the WDC Facebook Page and on our voicemail.  Please be sure to check in if you are unsure whether or not classes will be held.  Our morning classes are often canceled when schools are closed.  However, depending on whether or not conditions improve during the day afternoon/evening classes may still be held even when schools are closed.
HAVE YOU 'LIKED' US ON FACEBOOK?  Just another way to stay up on the happenings at the studio!
LOBBY ETIQUETTE WDC provides DVD movies in the main studio lobby as well as books, coloring books and crayons for siblings waiting in the lobby.  Running and rough play is not allowed due to safety issues.  We ask that parents monitor their children's behavior in the lobby and encourage them to sit or play quietly.  Children are not allowed to wait in the lobby without parental supervision. Thank you for your help with this.
WDC BOUTIQUE SPECIAL
Buy 2, Get 1 Free Hair Accesories
15% Off  In Stock Dance Bags
15% Off All Dancewear
15% Off Select WDC Apparel including select t-shirts, long sleeve shirts and sweatshirts.
SATURDAY HOLIDAY SALES – DARBY's FUNDRAISER We will once again have special sales events on Saturdays leading up to the holidays at WDC benefiting the Darby's Dancers program.  Darby's Dancers is a program at WDC for dancers with special needs. Dancers in the program receive free dance classes, dance wear and costumes through the non-profit organization.
Each Saturday we will have one or two WDC dance parents here taking orders and selling items (last year we had items from companies such as Origami Owl, 31 Bags, Young Living Essential Oils and Pampered Chef). The WDC boutique will also have special sales and discounts on Saturdays for your holiday shopping needs.  A portion of proceeds will go to the Darby's Dancers non-profit organization.
PLEASE LOOK FOR MORE INFORMATION ABOUT SALE DATES & PRODUCTS BEING SOLD. THANK YOU!