November Tappin' Times – 2020
Important Dates to put on your calendar…
Thanksgiving: No classes Thursday, November 26th thru Saturday, November 28th
Holiday break: No classes Monday, December 21st thru Saturday, January 2nd
Spring break: No classes Monday, March 8th thru Saturday, March 13th
Picture Week: Monday, April 12th – Saturday, April 17th (No Classes will be held during Picture Days)
Final class day: Saturday, May 22nd
Totally Tots Showcase: Sunday, May 23rd
Tentative dress rehearsal dates: Monday, May 24th; Tuesday, May 25th; Wednesday, May 26th; and Thursday, May 27th
Tentative recital dates: June 1st thru 5th
________________________________________
November Costume Payments
All dancers participating in our annual recital* (tentatively June 1st-5th) are required to make their second $40 costume payment ($30 for Tots classes) by November 15th (per class they are participating in). Please see the costume payment schedule below.
October 15th — $40 Costume payment for all students
November 15th — $40 Costume payment all students ($30 for Tots)**
December 15th — $60 Costume payment for older classes with two costumes***
***Classes with two costumes — 8th/12th tap/jazz and 7th/9th jazz/lyrical
Payments will be run automatically on the due dates using the credit card information on file in your account. Costume payments will be nonrefundable after December 1st.
Boys classes' full costume fee will be announced this spring.  They were charged a $40 payment on October 15th and the balance will be due this spring after costumes have been finalized.
TOTS PARENTS – Please be sure to bring clean/dry shoes to wear in class with your dancer. During the winter months we do not want snow/ice/salt being tracked into the dance rooms. Thank you for your help with this.
Band App
Please make sure you join the Band App. Online videos will be posted on the Band App to help with at home practice and to provide additional class content for our dancers. We will also use this app to communicate with dancers and parents regarding class material.
In the event that the studio has to close for a short period of time due to COVID-19, all classes will transition to a virtual format and dancers will be able to access their virtual class via the Band App.
It is important that you download the app and join the group by using the link or QR code so that you can access class content and receive class information and notifications. This information was also included in your dancers Fall Info Packet that was passed out during the first week of class.
ACCESS BAND LINKS AND QR CODES HERE
Lobby Policies and Procedures
We have recently made a change for our Preschool/3-5 session class dancers ~ Starting September 28th, one parent will be allowed to stay in the studio lobby during preschool classes.
We ask that parents practice social distancing and rotate at the viewing window/TV to allow everyone a chance to observe class.
At this time, siblings are not allowed to stay in the lobby during classes.
You can view all lobby policies and procedures HERE. We will also post updates on our website HERE. Policies and procedures will be updated throughout the season based on safety guidelines needed.
Thanksgiving Activity – Tots, Preschool & Kindergarten Dancers
Dancers in our Tots, Preschool and Kindergarten classes will be helping to send Thanksgiving Greetings to our friends at Oak Marsh Senior Center this month. The week of November 9th, students will be spending a few minutes of class coloring a Thanksgiving themed color sheet. The studio the will add them to a card and bring them to Oak Marsh to pass out to residents! **PLEASE NOTE: dancers will all receive their own individual pack of coloring crayons so dancers are not sharing crayons**
NEW SESSION CLASSES STARTING!
Session Two of our 6-7 week classes starts soon!  Classes will be offered for dancers ages 2 and up. Creative movement, Tap, Ballet, Jazz, Lyrical and Hip Hop will be offered. There is something for everyone – come join us for class!
Classes run from Monday, November 2th – Friday, December 18th.
(No Classes for Thanksgiving Break: Thursday, November 26th/Friday, November 27th)
Thanksgiving Dance Camps
We have added a couple one-day dance camps to our November schedule. Please see details below and use the link to register for camp.
Camp Tuition
Regular rate — $25
Current WDC students — $20
Sibling discount — $5 off for each additional family members
Twirling Turkeys Dance Camp — Ages 3 1/2 to 6
Friday, November 13th 9:30 a.m. to 11:00 a.m.
Camp Description: Dancers will dance, play games and enjoy crafts to celebrate a day of thanks!
Gobbles & Giggles Dance Camp — Ages 3 1/2 to 6
Friday, November 20th 10:30 a.m. to 12:00 p.m.
Camp Description: Dancers will dance, play games and enjoy crafts to celebrate a day of thanks!
JoJo Hip Hop Party Camp — Ages 5 to 8
Friday, November 20th 10:30 a.m. to 12:00 p.m.
Camp Description: Learn basic hip hop moves and a fun routine set to hit music from your favorite tween celebrity! Rock those bows, neon, and sparkle as we dance, play games, and do a craft. Tennis shoes needed.
Monthly Themes for Tots, Preschool, and Kindergarten Classes
Our theme this month for tots, preschool, and kindergarten classes is: "I Am Thankful!". We will have special songs, games, activities, along with dance specific skill goals and life/social skill goals that will be worked on each month.
Wingman For Dance
We are excited to continue using the Wingman For Dance Program with our 1st/2nd grade and older classes! Wingman inspires empathy, compassion, kindness, and inclusion. Each month will have a new focus with various activities. November's focus will be on "The 'Us' List and Teamwork".
Double Good Popcorn Fundraiser – Later this month ALL WDC DANCERS will be invited to participate in our Double Good Popcorn Fundraiser that will support your dancer as well as our Darby's Dancer Program. The fundraiser will start November 18th and dancers will be able to set up their online popcorn shop to sell popcorn for four days. Please look for more information about this fundraiser to be sent via email in the next couple weeks.
FOOD DRIVE — We are having a food drive in November for the Christian Cupboard food shelf in Woodbury.  Dancers are encouraged to bring in non-perishable food items and drop them off near the front desk between November 2nd – 14th.  Below is a list of items that the food shelf is requesting at this time of year.
Items the food shelf is requesting–
·          Meats, fish, and protein: canned tuna, ham or chicken, beef stew, chili, peanut butter, canned/dried beans
·          Fruits and vegetables: 100% fruit juice, canned fruits and vegetables, instant potatoes, fruit preserves
·          Complete meals: pasta & sauce, boxed meals, hearty soups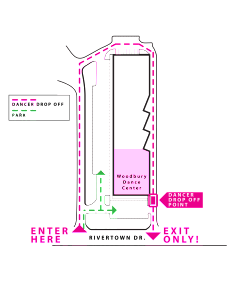 PARKING LOT…Please go slowly and carefully when driving through our buildings parking lot. Parents, please keep little ones close so they do not run out into traffic.
***When parking on the road on the south side of our building, please do not park on the south side of the road (the opposite side).  We can only park on the north side so that trucks can get through.  When parking on the north side of our building, please park along the building only and not on the north side of the drive-way.  Again delivery trucks need to be able to get through to other businesses in our building.
Please look for the No Parking signs and only park in handicap spots if you have a handicap sticker visible in your vehicle. Also, please view the diagram provided for more information about our new drop off spot and the traffic flow of our parking lot. Thanks for your help with this.
PLEASE NOTE:
* You will not be allowed to drop off or pick up dancers in front of the doors.
* When picking up you will not be able to wait at that spot if your dancer is not there and ready to be picked up.  Please plan to circle the building again or find a parking spot and wait until they are ready to come out to the car.
Please help keep our dancers safe by following this parking plan.  Thank you!
Look for Previous Newsletters on our Website
All previous newsletters are posted on our website on the NEWSLETTER PAGE. Have a question? Can't remember an important date? Check back on previous newsletters. This is a great source of information throughout the dance season.
WINTER IS HERE!!  If we plan to cancel classes due to extreme weather, we will send emails, post information on our web site, the BAND app, the WDC Facebook Page and on our voicemail.  Please be sure to check in if you are unsure whether or not classes will be held.  Each class has one snow day built into our yearly schedule. If class has to be canceled more than once, classes will be moved to zoom for that date or a make up date will be scheduled.
HAVE YOU 'LIKED' US ON FACEBOOK?  Just another way to stay up on the happenings at the studio!
WDC BOUTIQUE SPECIAL
Buy 2, Get 1 Free Hair Accessories
20% Off  In Stock Dance Bags
20% Off All Dancewear
20% Off Select WDC Apparel
BOUTIQUE GIFT ITEMS – Our studio boutique is open during business hours. Dancers and parents are welcome to stop in to shop for dance wear and shoes. Gift items including sweatshirts, studio jackets, dance bags, winter hats/scarves and more are available for your holiday shopping needs!
ONLINE APPAREL ORDERING
– Our online apparel store will be reopened today through Friday, November 13th. Samples will be available near the front desk again. New orders should be available to pick up in mid-December. Order online
HERE
.