October 2020 Newsletter
---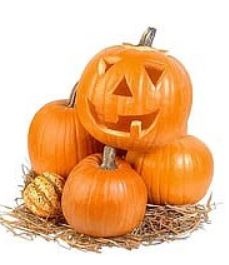 Welcome to Woodbury Dance Center!  Whether you are a new or returning student, we are very excited to have you with us this year.  We look forward to a fun-filled and exciting dance season.
Our monthly newsletter will be online each month to notify parents of upcoming events and studio information.  Please read newsletters each month.  One of our goals at WDC is to keep everyone informed as much as possible, read through our monthly newsletter to stay up to date of studio information.
If you do not have access to the internet and need a copy, please ask at the front desk.
---
Costume Payments
All dancers participating in our annual recital* (tentatively June 1st-5th) are required to make their first $40 costume payment by October 15th (per class they are participating in). Please see the costume payment schedule below.
October 15th — $40 Costume payment for all students
November 15th — $40 Costume payment all students ($30 for Tots)**
December 15th — $60 Costume payment for older classes with two costumes***
***Classes with two costumes — 8th/12th tap/jazz and 7th/9th jazz/lyrical
Payments will be run automatically on the due dates using the credit card information on file in your account. Costume payments will be nonrefundable after December 1st.
*Online dancers may choose to participate in recital. Please contact the studio if you would like your dancer to participate and will be making the costume payments.
**Boys classes' full costume fee will be announced this spring. They will have the $40 payment due October 15th and the balance will be due this spring after costumes have been finalized.
---
Information Packet
Please be sure to refer to our fall information packet for important dates and recital information.
---
Band App
Please make sure you join the Band App.
Online videos will be posted on the Band App to help with at home practice and to provide additional class content for our dancers. We will also use this app to communicate with dancers and parents regarding class material.
In the event that the studio has to close for a short period of time due to COVID-19, all classes will transition to a virtual format and dancers will be able to access their virtual class via the Band App.
It is important that you download the app and join the group by using the link or QR code so that you can access class content and receive class information and notifications. This information was also included in your dancers Fall Info Packet that was passed out during the first week of class.
ACCESS BAND LINKS AND QR CODES HERE
---
Make Up Classes
As a reminder, if your dancer is absent they are welcome to do a make-up in another class of the same age/level.  Due to limited class sizes, you MUST contact us ahead of time by calling or e-mailing (or ask at the Front Desk) to schedule a make-up class for your dancer. There may be an option to join class via zoom for a make up class; however, not all classes are being offered via zoom. Please contact the front desk to inquire. Make-ups are not required.
---
Lobby Policies and Procedures
We have recently made a change for our Preschool/3-5 session class dancers ~ Starting September 28th, one parent will be allowed to stay in the studio lobby during preschool classes.
We ask that parents practice social distancing and rotate at the viewing window/TV to allow everyone a chance to observe class.
At this time, siblings are not allowed to stay in the lobby during classes.
You can view all lobby policies and procedures HERE. We will also post updates on our website HERE.
---
October Dance Camps
We have added some one-day dance camps to our schedule in October. Please see details below and use the link to register for camp.
Craft camp — Ages 4 to 7
Friday, October 9th 9:30 to 11:00 a.m.
Camp Description: The ultimate craft & dance camp experience. Campers will explore their creative side with a fun, age appropriate craft and followed by a fun dance party.
"Pumpkins & Plies" camp — Ages 3 to 5
Friday, October 16th 9:30 to 11:00 a.m.
Camp Description: Come celebrate fall with us! Dancers will enjoy dancing, coloring, crafts, games and tons of fun!
"JoJo Hip Hop Party" camp — Ages 5 to 8
Friday, October 16th 9:30 to 11:00 a.m.
Camp Description: Learn basic hip hop moves and a fun routine set to hit music from your favorite tween celebrity! Rock those bows, neon, and sparkle as we dance, play games, and do a craft. Tennis shoes needed.
Craft camp — Ages 4 to 7
Friday, October 23rd 9:30 to 11:00 a.m.
Camp Description: The ultimate craft & dance camp experience. Campers will explore their creative side with a fun, age appropriate craft and followed by a fun dance party.
Tuition for Dance Camps
Regular rate — $25
Current WDC students — $20
Sibling discount — $5 off for each additional family member
---
Private Lessons for Recreational Dancers Ages 1st Grade & Up!
Woodbury Dance Center is excited to now offer private lessons for our recreational dancers ages 1st grade and up! This is a great opportunity for your dancers to get some one on one time with teachers to work on their technique and skills (and as the season goes on, work on their recital routine).
Private lessons will be scheduled for 30-minute time slots, based on room/teacher availability and sign up will be first come first serve. The tuition for private lessons will be $35 per 30-minute private lesson paid directly to Woodbury Dance Center at the front desk prior to your scheduled private lesson.
Please contact Emily at emilyness.wdc@gmail.com to book your private lessons today!
---
Monthly Themes for Tots, Preschool, and Kindergarten Classes:
Our theme this month for tots, preschool, and kindergarten classes is: "Fabulous Fall Fun!". We will have special songs, games, activities, along with dance specific skill goals and life/social skill goals that will be worked on each month. Participation element: dancers are invited to wear their Halloween costume to class the week preceding Halloween (classes will be held in the morning on October 31st).
---
Wingman For Dance Program:
We are excited to continue using the Wingman For Dance Program with our 1st/2nd grade and older classes! Wingman inspires empathy, compassion, kindness, and inclusion. Each month will have a new focus with various activities. October's focus will be on "going above beyond"- exploring Wingman's core values and learning what it means to go above and beyond as a helpful classmate who thinks of others and leads by example.
---
Autopay
As a reminder, all accounts will be required to have a credit card on file and be signed up for automatic monthly payments for tuition. You will still have the option to pay at the front desk with cash, check or a different card if the payment is received before monthly tuition payments are processed automatically on the 3rd of each month. Please let us know if you have any questions.
---
Ballet Shoes
As a reminder, ballet shoe strings should be cut short and tucked into the shoe.  They should not be tied in a bow. Please trim your shoe strings to about 2 inches long so they can easily be tucked in.  Thank you!
---
MEA — Classes WILL be held during MEA break (October 14th-17th).
---
Did you know?
Free WiFi is offered to WDC customers!  Connect to: dance4  Password: wdcdance
We have extra shoes at the front counter to borrow in case you forget your dance bag?  Please return them at the end of dance class. Has your dancer grown out of their shoes?? Donate them to our borrow bins! We are looking to replenish our borrow bins at the studio. We especially need more ballet shoes of all sizes.
We have extra leotards and tights available for our little dancers to borrow in case of an accident (Just ask at the front desk)
There is a diaper changing deck in the unisex bathroom.  Please use the provided diaper pail.
There are baby changing supplies at the front desk if you need them.
There is a bulletin board to sell and buy used shoes next to boutique door.
---
Treats
At this time, dancers will not be allowed to pass out treats to their classmates in celebration of birthdays or holidays. Thank you for your understanding with this change in policies due to our new safety guidelines.
---
Label, label, label:  Please label all of your child's dance shoes and dance wear.
Mabel's Labels – Help your kids cut back on lost items and stay organized this school year by purchasing a nifty set of labels from Mabel's Labels! Use the link to access the Mabel's Labels website. Our Darby's Dancers Program will receive a portion of the proceeds from each purchase.
---
Fundraisers
Woodbury Dance Center is excited to share we are hosting a Shop for a Cause event with EVEREVE Woodbury Lakes on Thursday, October 8th from 10:00am – 7:00pm benefitting Darby's Dancers at Woodbury Dance Center.
With extra precautions in place, EVEREVE Style Socials has given us an entire day to shop in the store – and the best part? 15% of every purchase will go towards Darby's Dancers.
Also, look for more information to be sent later this fall for our annual Double Good popcorn fundraiser that will be available for all WDC dancers to participate in.
---
Parking
Just a friendly reminder to be aware of where you are parking around the studio. On the south side of the building, other businesses have spots close to their entrances reserved – no parking will be allowed in these spots for WDC families (green/red signs are posted). Also, on the north side of the building, please do not park in front of the garage doors. We understand parking can be tricky on some evenings and we very much appreciate your cooperation and understanding. You can also park on the street that you turn onto, as you turn off of Rivertown Drive, if the parking lot is full.
Also, please view the graphic below and read the important parking information about our new drop-off/pick up spot and the flow of traffic in our parking lot. Thank you!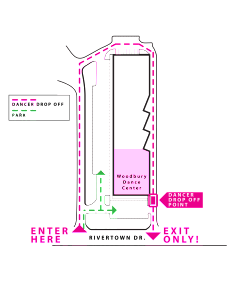 PLEASE NOTE:
* You will not be allowed to drop off or pick up dancers in front of the doors.
* When picking up you will not be able to wait at that spot if your dancer is not there and ready to be picked up.  Please plan to circle the building again or find a parking spot and wait until they are ready to come out to the car.
Please help keep our dancers safe by following this parking plan.  Thank you!
---
Halloween Parties in Dance Classes:
Students are invited to wear a Halloween costume to their class between Monday, October 26th through Saturday, October 31st (classes will be held in the morning on October 31st).  Please make sure that the costume does not restrict movement so that students can still participate in dance class.  Dancers WILL NOT be able to pass our treats in class this year; however, teachers will have treats for dancers.
---
Boutique Special for October:
50% off one pair of tights with purchase of any leotard (at regular price)
Hair accessories including bows, barrettes, scrunchies headbands, etc… are BUY 2 GET 1 FREE!
Valid for the month of October.
Also, check out the clearance section for WDC apparel with items up to 50% off!
---
"Dance to the music of your dreams; The steps will bring you joy."               – Anonymous