October 2019 Newsletter
---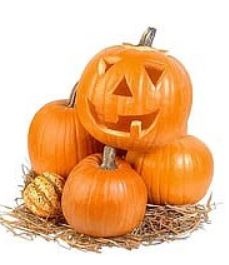 Welcome to Woodbury Dance Center!  Whether you are a new or returning student, we are very excited to have you with us this year.  We look forward to a fun-filled and exciting dance season.
Our monthly newsletter will be online each month to notify parents of upcoming events and studio information.  Please read newsletters each month.  One of our goals at WDC is to keep everyone informed as much as possible, read through our monthly newsletter to stay up to date of studio information.
If you do not have access to the internet and need a copy, please ask at the front desk.
---
Costume Payments
All dancers participating in our annual recital (June 1st-6th) are required to make a $40 costume payment by October 15th (per class they are participating in).  There will be a second costume payment due on November 15th — $35 per class they are participating in ($25 due for 30-minute classes). And a final costume payment due on December 15th — $50 payment due per student in classes with costume totals of $125.
Payments will be run automatically on the due dates using the credit card information on file in your account. Costume payments will be nonrefundable after December 1st.
Boys classes' full costume fee will be announced this spring.  They will have the $40 payment due October 15th and the balance will be due this spring after costumes have been finalized.
---
Information Packet
Please be sure to refer to our fall information packet for important dates and recital information.
---
MEA Dance Camp
We have added a one-day dance camp to our schedule on Friday, October 18th for dancers ages 4-7. Please see details below and use the link to register for camp.
One Day Camps 9:30 a.m. to 1:00 p.m. Instructor: Mary Swenson
*Dancers will need to bring a snack and a bag lunch with a beverage each day.
Jo Jo's Hip Hop Party Camp – Friday, October 18th (TUITION $35): Ages 4 to 7 years - Learn basic hip hop moves and a fun routine set to hit music from your favorite tween celebrity! Rock those bows, neon, and sparkle as we dance, play games, and do a craft. Tennis shoes needed.
---
Parent's Night Out – Saturday, October 19th
WDC will be hosting another Parent's Night Out event on Saturday, October 19th. Please see details below and use the link to register for this event.
Saturday, October 19th @ WDC MAIN STUDIO
5:30-8:30 p.m. Ages 4-10
Includes pizza/beverage, crafts, games, movie and glow party fun!
Wear a Halloween costume if you choose!
Cost based on date of registration. Sibling discounts available.
Register by October 11th – $20/1st child, $15/2nd child, $10/3rd, 4th, 5th child
Register by October 18th – $25/1st child, $20/2nd child, $15/3rd, 4th, 5th child
Register on October 19th – $30/1st child, $25/2nd child, $20/3rd, 4th, 5th child
Payments will be processed for you automatically through your WDC account.
---
Private Lessons for Recreational Dancers Ages 1st Grade & Up!
Woodbury Dance Center is excited to now offer private lessons for our recreational dancers ages 1st grade and up! This is a great opportunity for your dancers to get some one on one time with teachers to work on their technique and skills (and as the season goes on, work on their recital routine).
Private lessons will be scheduled for 30-minute time slots, based on room/teacher availability and sign up will be first come first serve. The tuition for private lessons will be $35 per 30-minute private lesson paid directly to Woodbury Dance Center at the front desk prior to your scheduled private lesson.
Private lessons that are not filled by 24-hours prior will be cancelled. If you sign up for a private lesson and cancel 24 hours or do not show up, you will still be responsible for the tuition cost, which will be automatically charged to your account. If you cancel a private lesson with more than 24 hours notice, there will be no cancellation penalty.
Our instructors, Alexis Heruth, Katherine Griffis, Tatiana Biessener & Mahri Mendoza will be offering private lessons throughout the 2019-2020 season. Please check out their biographies on our website HERE.
Please click the link below to see the schedule for private lessons offered through mid October and to sign up. We will post more offerings every couple of weeks — look for emails with information on added time slots.
---
Monthly Themes for Tots, Preschool, and Kindergarten Classes:
Our theme this month for tots, preschool, and kindergarten classes is: "Fabulous Fall Fun!". We will have special songs, games, activities, along with dance specific skill goals and life/social skill goals that will be worked on each month. Participation element: dancers are invited to wear their Halloween costume to class the week preceding Halloween (no classes will be held in the PM on October 31st).
---
Wingman For Dance Program:
We are excited to continue using the Wingman For Dance Program with our 1st/2nd grade and older classes! Wingman inspires empathy, compassion, kindness, and inclusion. Each month will have a new focus with various activities. October's focus will be on "going above beyond"- exploring Wingman's core values and learning what it means to go above and beyond as a helpful classmate who thinks of others and leads by example.
---
Autopay
As a reminder, all accounts will be required to have a credit card on file and be signed up for automatic monthly payments for tuition. You will still have the option to pay at the front desk with cash, check or a different card if the payment is received before monthly tuition payments are processed automatically on the 3rd of each month. Please let us know if you have any questions.
---
Ballet Shoes
As a reminder, ballet shoe strings should be cut short and tucked into the shoe.  They should not be tied in a bow. Please trim your shoe strings to about 2 inches long so they can easily be tucked in.  Thank you!
---
MEA — Classes WILL be held during MEA break (October 17th-19th).
---
Did you know?
Free WiFi is offered to WDC customers!  Connect to: dance4  Password: wdcdance
We have extra shoes at the front counter to borrow in case you forget your dance bag?  Please return them at the end of dance class. Has your dancer grown out of their shoes?? Donate them to our borrow bins! We are looking to replenish our borrow bins at the studio. We especially need more ballet shoes of all sizes.
We have extra leotards and tights available for our little dancers to borrow in case of an accident (Just ask at the front desk)
There is a diaper changing deck in the unisex bathroom.  Please use the provided diaper pail.
There are baby changing supplies at the front desk if you need them.
There are books and coloring supplies by the fish tank to help keep siblings occupied.
There is a bulletin board to sell and buy used shoes next to boutique door.
Please be mindful of the volume level of the electronics being used in the lobby.  Please keep the volume low or consider using headphones/earbuds when possible.  Thank you.
---
Waiting Room Etiquette
For the safety and comfort of everyone, we would like to remind you of some guidelines.
Please throw away trash to help keep the lobby clean.
Running & rough play is not allowed.
Children must be supervised at all times.
Please help us keep the noise level down in the lobby by encouraging your children to use 'their inside voices'.
As cold weather approaches, please use coat hook areas for coats and boots.
---
Treats
Dancers may from time to time want to bring in treats for their dance class (holidays, birthdays, etc…).  However, we ask that you DO NOT bring in items with frosting as they tend to create a lot of mess in the lobby.  We also ask that you avoid home baked treats of any kind and items with nuts (for allergy reasons).  Dancers may choose to bring in items that are prepackaged such as fruit snacks, bagged snacks, candy or non food items.  Another option is to bring in packaged store bought cookies without frosting by placing them in a clear plastic bag.  We appreciate your help with keeping the dance studio clean for others.  Thank you!!!
---
Label, label, label:  Please label all of your child's dance shoes and dance wear.
Mabel's Labels – Help your kids cut back on lost items and stay organized this school year by purchasing a nifty set of labels from Mabel's Labels! Use the link to access the Mabel's Labels website. Our Darby's Dancers Program will receive a portion of the proceeds from each purchase.
---
Recital DVDs/Videos are at the front desk.  If you ordered one last spring and have not picked it up please stop by the desk.
---
Parking
Just a friendly reminder to be aware of where you are parking around the studio. On the south side of the building, other businesses have spots close to their entrances reserved – no parking will be allowed in these spots for WDC families (green/red signs are posted). Also, on the north side of the building, please do not park in front of the garage doors. We understand parking can be tricky on some evenings and we very much appreciate your cooperation and understanding. You can also park on the street that you turn onto, as you turn off of Rivertown Drive, if the parking lot is full.
Also, please view the graphic below and read the important parking information about our new drop-off/pick up spot and the flow of traffic in our parking lot. Thank you!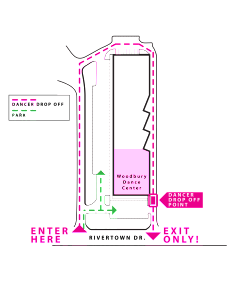 PLEASE NOTE:
* You will not be allowed to drop off or pick up dancers in front of the doors.
* When picking up you will not be able to wait at that spot if your dancer is not there and ready to be picked up.  Please plan to circle the building again or find a parking spot and wait until they are ready to come out to the car.
Please help keep our dancers safe by following this parking plan.  Thank you!
---
Halloween Parties in Dance Classes:
Students are invited to wear a Halloween costume to their class between Thursday, Oct 24th EVENING through Thursday, October 31st MORNING.  Please make sure that the costume does not restrict movement so that students can still participate in dance class.  We will have Halloween treats too! As a reminder, there will be NO EVENING CLASSES on Thursday, October 31st.
---
Boutique Special for October:
50% off one pair of tights with purchase of any leotard (at regular price)
Hair accessories including bows, barrettes, scrunchies headbands, etc… are BUY 2 GET 1 FREE!
Valid for the month of October.
Also, check out the clearance section for WDC apparel with items up to 50% off!
---
"Dance to the music of your dreams; The steps will bring you joy."               – Anonymous