Tappin' Times – Summer 2017
Congratulations to all our dancers on their wonderful performances during our 2017 recitals, "Teacher's Choice Awards" We are proud of our dancers and their hard work throughout the 2016-2017 season. We would like to thank all the parents for everything you do to support the dancers and teachers and we are looking forward to another fun year of dance at WDC.
RECITAL LOST AND FOUND
There were multiple items left at the high school over recital week. Missing something? Please check the recital lost and found at the front desk. Thank you!
Recital shirts
There is a limited number of 2017 recitals shirts still available to purchase in our boutique.  Cost is now $10 each.  Get yours while they last!
SUMMER CLASSES & CAMPS
We have two 4 week summer sessions for dancer ages 2 and up. Please see the dates below and click on the link for more information about our summer classes and to register.  As a reminder, summer classes for boys only classes and adult tap are only offered during the second session. If you have any questions about summer classes or registration, please contact our front desk at (651) 735 – 9252.
Summer Session 1: June 19th – July 18th (No Classes July 3rd & 4th)
Summer Session 2: July 24th – August 15th
Click HERE for the complete summer schedule and class descriptions.
We are offering multiple one day dance camps this summer! Each day runs from 9:30am – 1:00pm. Please see the dates and camp themes below. Click HERE for more information about summer dance camps and to register.
Ballet Beauties Camp – Thursday, June 22nd:  Ages 4 to 6
Get Your Sparkle On Camp – Wednesday, June 28th:  Ages 4 to 6
4th of July Celebration Camp – Thursday, June 29th:  Ages 4 to 6
Pom Dancer Camp – Wednesday, July 19th: Ages 6 to 9
Little Miss Manners Camp – Thursday, July 20th: Ages 5 to 8
Hollywood Fashionista Camp – Thursday, July 27th:  Ages 4 to 6
Itty Bitty Hip Hoppers – Wednesday, August 9th: Ages 4 to 7
Island Princess Luau Camp – Wednesday, August 16th:  Ages 4 to 6
Spa Party Girls Day Camp – Thursday, August 17th:  Ages 4 to 6
2017 AUDITIONS
Auditions for many of our tap/jazz lines, hip hop lines, and boys competition group, begin in July. Below are the dates for auditions.
Pre Audition Classes: June 26th-29th & July 10th-13th
Tap/Jazz line Auditions: July 17th – August 3rd
Babies/Minis Auditions: July 18th – 27th
Hip Hop Auditions: July 19th – August 16th
Pom Pre Auditions: July 17th – 27th
Pom Auditions: August 8th – 17th
Boys audition information will be posted soon!
If your dancer is interested in auditioning for a competition group please click HERE for more schedule and audition information.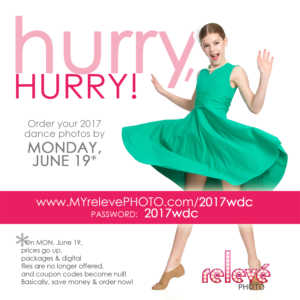 PICTURES
Class pictures were taken in costume back in April. As a reminder, pictures may be ordered online using the link below through Sunday, June 18th (prices go up on Monday, June 19th).
ORDER PICTURES HERE  (password is  "2017wdc")
RECITAL DVDS
Recital DVDs will be ready to pick up at the studio starting Monday, July 10th. If you have not yet ordered a DVD and would like to do so, below is some ordering information.
DVDs are $29.95 until June 16th – any order after June 16th, DVDs are $39.95.
DARBY'S DANCERS GARAGE SALE
We will be hosting a garage sale/shoe sale in August/September to support our Darby's Dancers Program. Darby's Dancers offers free dance classes to dancers with special needs. We encourage parents to save their dancers used shoes and dance wear to donate to the sales later this summer and help support Woodbury Dance Center's Darby's Dancers. For more information about our Darby's Dancers Program click HERE.
SUMMER HOURS
Below are our summer hours.
Mondays     1:00 p.m. to 9:30 p.m.
Tuesdays    9:30 a.m. to 9:30 p.m.
Wednesdays  9:30 am. to 9:30 p.m.
Thursdays    9:30 a.m. to 9:30 p.m.
Fridays        closed
Saturdays    closed
Sundays      closed
The studio will be CLOSED on Monday, July 3rd – Sunday, July 9th.
FALL REGISTRATION
Don't forget to register for classes for the 2017-2018 season! Classes are filling up quickly. Click HERE to view the schedule. You can register for classes online at our website woodburydance.com. Look for information that will be sent out soon about "Back to Dance Sales." The Back to Dance Sales will be in August in our Boutique, where you can come in to order/purchase shoes and dance wear at a discounted price before the new season. Our 2017-2018 season will begin on Thursday, September 7th.