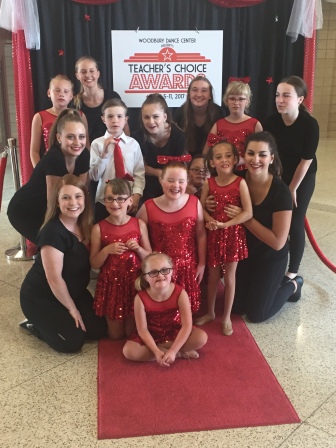 Woodbury Dancer Center is the proud home of Darby's Dancers! Darby's Dancers is a non-profit organization that provides specialized classes for dancers with special needs. Each dancer is paired with a volunteer coach and will take class once a week. There is no charge to dancer/families for the classes. Please read the information below about WDC's Darby's Dancers Program and use the links to join the program, become a coach, or learn more about Darby's Dancers.
Darby's Dancers provides a fun and encouraging activity for special needs children to strengthen muscles, increase coordination, build confidence and form life long friendships. To learn more about the organization, use the link below to visit their website.
Darby's Dancers Newsletters
These newsletters the organization's monthly newsletters – please make sure to read the newsletters under the "Newsletter" section for the studio's newsletters
MARCH NEWSLETTER

Darby's Dancers Regular Season Schedule 2018-2019
WDC's Darby's Dancers Schedule
Classes will start Tuesday, September 11th/Saturday, September 15th.
Saturdays @ MAIN STUDIO (Instructor:  Rebecca Habel)
8:45 – 9:15 a.m. Ages 4 to 7 Hip Hop FULL
9:15 – 9:45 a.m.  Ages 4 to 7 Ballet
9:45 – 10:30 a.m.  Ages 8 to 11 Jazz
10:30 – 11:15 a.m.  Ages 12+ (girls only) Jazz FULL
11:15 – 12:00 p.m.  Ages 8+ (boys only) Hip Hop/Jazz
Tuesdays @ MAIN STUDIO  (Instructor:  Katia Bode)
7:15 – 8:00 p.m.   Ages 8+  Jazz FULL
No classes held on the follow dates for holiday breaks:
Saturday, November 24th – Thanksgiving Break
Saturdays, Dec 22nd & 29th/ Tuesdays, Dec 25th & Jan 1st- Winter Break
Tuesday, March 12th/ Saturday, March 16th- Spring Break
Dancers will have the opportunity to perform in a year end performance.  Their costume as well as shoes and dance wear for class will be provide at no cost, as well.
Darby's Dancers Summer Schedule 2019
Thursdays, June 20th, 27th, July 11th & 18th (No Class July 4th) @ MAIN STUDIO*
Instructor: Rebecca Habel
5:00-5:30 p.m. Ages 4-7
5:30-6:15 p.m. Ages 8-11
6:15-7:00 p.m. Ages 12+ girls FULL
7:00-7:45 p.m. Ages 12+ boys
*380 Rivertown Dr. Suite 1100
Dance wear & shoes for class will be provide at no cost.
Darby's Dancers Volunteer Coaches
Each dancer will be paired with a teen volunteer coach during class. The volunteer aspect is an integral aspect of the organization. The special needs dancers may be able to perform the dance steps independently, or they may need more assistance depending on their disability.  The volunteer coach helps the dancer by modeling the dance steps and assisting them in following directions.
Interested in becoming a teen volunteer coach?? Use the link below for the volunteer application form.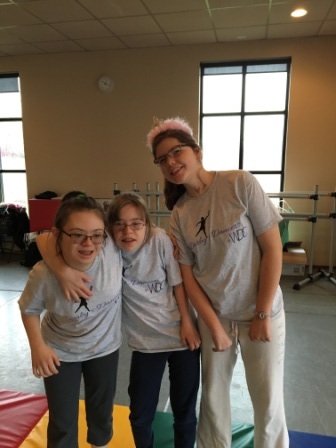 Instructors: Rebecca Habel, Katia Bode & Jessica Ducklow
Read Rebecca's Biography HERE
Read Katia's Biography HERE
Jessica Ducklow has a Bachelors of Science Degree in Vocational Rehabilitation and Special Education. She has been teaching students with special needs for 16 years, the majority of which have been spent in a multi-categorical classroom. Jessica has taught a range of ages from elementary to high school. She has also volunteered with Special Olympics and coached Adaptive Floor Hockey. Jessica loves working with kids and encouraging them in activities that support their growth and development.