Join us for one of our summer dance camps!
We will be offering two types of camps this summer – Mini Camps for ages 3-5 and Super Camps for ages 4-7.
Mini Dance Camp Ages 3-5
9:00 a.m – 12:00 p.m.
Dancers are welcome to bring a snack and a beverage
Super Dance Camp Ages 4-7
9:00 a.m. – 3:00 p.m.
Dancers need to bring a snack, a lunch and a beverage
Before care from 8:00-9:00 a.m. and after care from 3:00-4:00 p.m. will be provided on Super Camp days for a small fee. Information will be sent out to those who are registered for camp.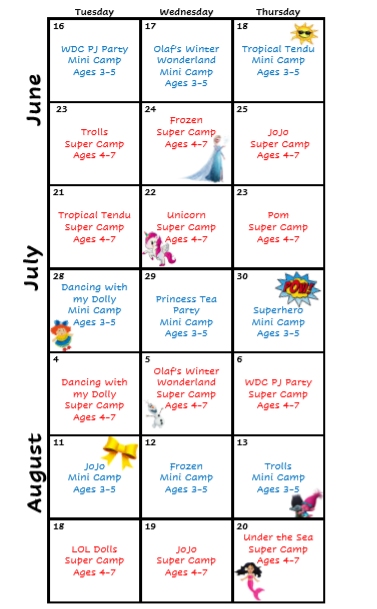 Dance Camp Attire
Dancers are encouraged to wear dance wear or comfortable clothing that they can move in. Ballet, jazz or clean tennis shoes can be worn for all camps.
Camp Pricing
Current WDC Students/NEW WDC Students 
Priority Pricing – March 1st – 31st
Mini Camps –$35/day, 3 day package – $100, 6 day package – $195
Super Camps — $60/day, 3 day package – $175, 6 day package – $345
Regular Pricing 
Mini Camps — $40/day, 3 day package – $115, 6 day package – $220
Super Camps — $70/day, 3 day package – $200, 6 day package – $390